London
Plant Hire London plus Surrounding Area
Ridgway Rentals have been supplying Plant Hire London for over 50 years and are now considered one of the largest plant hire companies available in the county.
All plant equipment is modern and of the latest specification, well maintained and fully inspected for safety and reliability.
DELIVERED AT LOCAL RATES
Ridgway Rentals offer local rate delivery charges on Plant Hire within London and surrounding areas.
Plant Hire Machinery from small plant up to 50 ton excavators can be delivered direct to your site anywhere in the UK at a local rate.
Plant Machinery for hire ranges from Mini Diggers up to 50 Ton Excavators and include Long Reach Dredging Machines, High Reach Demolition Machines, Rubber Duck Wheeled and Zero Tail Swing, Loading Shovels (available in full waste spec), Telehandlers, Backhoes, Dumpers, Rollers, Dump trucks, Dozers, JCBs all available with many different attachments to suit purpose.
Ridgway Rentals Plant Hire London covers the surrounding area including:
Kensington | Hackney | Twickenham | Croydon | Bromley | Wembley | Harrow | Romford | Barnet | Heathrow
London is the capital and most populous city of England and stands on the River Thames in the south east of Great Britain. Famous landmarks include Buckingham Palace, the London Eye, Tower Bridge, Trafalgar Square and The Shard. The London Underground is the oldest underground railway network in the world.
Recently supplied in London
---
We often have to deliver plant hire around London, usually very early in the morning to ensure machines are on site and ready for work that day!
This Komatsu PC490LC 50 Ton excavator was delivered near to the infamous Harrods department store in Knightsbridge, Kensington.
FORS Compliant
Ridgway has FORS Bronze accreditation and fully compliant to deliver our plant hire within Central London. 
The Fleet Operator Recognition Scheme (FORS) is a voluntary accreditation scheme for fleet operators which aims to improve fleet activity. Operators must demonstrate exemplary levels of best practice in safety, efficiency, environmental protection and operations.
---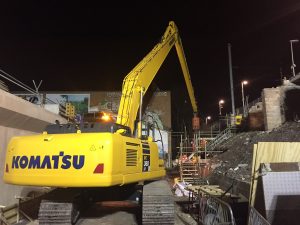 We recently hired out our Komatsu PC360LC-10SLF Long Reach Excavator to a well-known rail contractor in Hackney, London.
Our 22 metre, 36 Ton, Super Long Front Excavator was needed for installing pillars using an auger attachment. The vast reach of this machine along with the complete stability and control made it the perfect choice for the task
Max. digging height        16383 mm (53'9″)
Max. dumping height      14173 mm (46'6″)
Max. digging depth         12446 mm (40'10")
Max. digging reach         18288 mm (60'0″)
We have a fleet of Long Reach Excavator Hire offering varying measurements of reach including 12 metre, 15 metre, 18 metre & 22 metre reach. All of these machines are factory built by market leaders, Komatsu and have full specification sheets, bio oil and are CE certified.
For more information on the long reach excavator used on this project and the rest of our Long Reach fleet, click on the following link:
Komatsu's latest generation of 'dash 10' excavators continues a long tradition of uncompromising quality and commitment to safety and environmental protection. They offer lower fuel consumption and emissions plus an advanced electronic control system.
Call our National Hire Desk on FREEPHONE 0800 51 51 55 or email for friendly, experienced and professional advice as well as our BEST PRICE on PLANT HIRE!
Please see our Plant Hire page for a current list of machinery available.