JCB Hire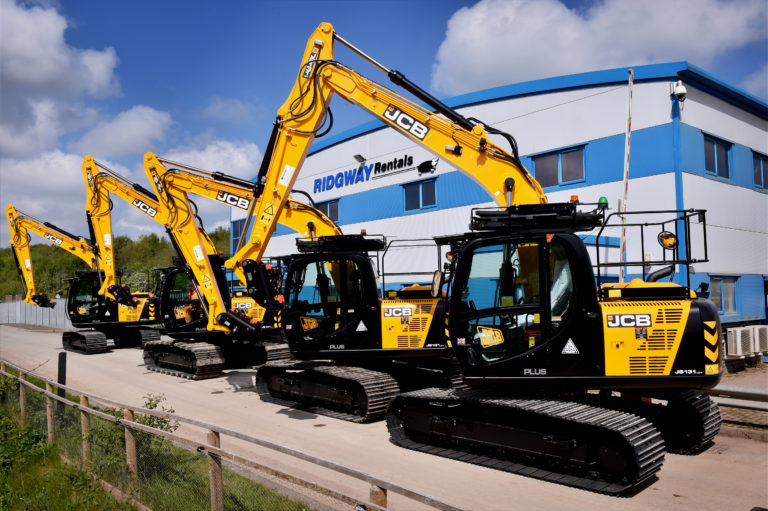 Our JCB Hire offers a vast and diverse collection of construction machines suitable for many industries.
Continual investment with JCB ensures we can offer the latest technology available on the market.
JCB Hire at Ridgway Rentals
---
History of JCB
JCB is an iconic British company and we are pleased to have links with JCB going back over 50 years!
JCB was founded in 1945 by Joseph Cyril Bamford, when he made his first vehicle, a tipping trailer from war-surplus materials using a second-hand welding set. He sold this for profit on the same day his son Anthony was born.
Becoming one of the most famous of British Engineering success stories, JCB continues to be owned by the Bamford family today.
Still based in Staffordshire, JCB invest heavily in research and development and listen to industry demands, keeping JCB at the cutting edge of innovation in design, operator comfort and safety.
---
New JCB Hydradig 110W Compact Wheeled Excavator
The Hydradig is an innovative digging, lifting, loading and tool-carrying machine for urban construction, highway maintenance and civil operations. In a world where one machine is expected to do the work of many, the JCB Hydradig gives you the ultimate in adaptability and versatility.
Award Winning  Machine
Named 'New Product of the Year' at the British Engineering Excellence Awards, the JCB Hydradig was described as "A revolutionary tool carrying solution, bringing new levels of innovation and engineering in a fiercely contested category – a worthy winner"
Click here for more information
---
Site Safe Cabbed Dumpers built with total safety in mind!
6 Ton & 9 Ton Cabbed Dumpers from JCB
Comfortable and safe to operate
ROPS/FOPS Cab
JCB SiTESAFE™ operator environment as standard
Designed & built to address the industry concerns over safety!
Click here for more information
---
For details of our other manufacturers, click on the following links
For more information on our JCB Hire – please call us FREE on 0800 515155
or fill in form below