Mini Digger Hire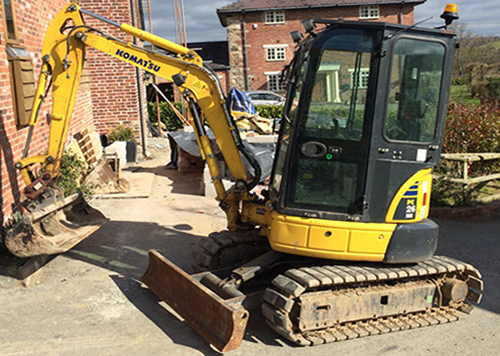 Ridgway Rentals Mini Digger Hire Fleet includes 1.5 ton, 3 ton, 5 ton and 8 ton Mini & Midi excavators from the market leaders Komatsu and JCB
All machines provided in our Mini Digger Hire are modern and well maintained.
They come equipped with a wide range of buckets and hydraulic breakers which we are happy to advise on.
Standard features include:
Large glass area and low bonnet profile for excellent visibility
Perfect control even during combined operations
ROPS & TOPS certified canopy plus Ergonomic controls
Standard 1 or 2-way auxiliary line for attachments
Hydraulic circuit guarantees power, speed and perfect control
Noiseless, comfortable and spacious cab
Allows multi tool use for different purposes
We offer FREE DELIVERY for mini digger hire within; Shropshire, Powys, Cheshire, Oswestry, Shrewsbury, Wrexham, Ellesmere, Chester and surrounding areas.
Mini Digger Hire on its own is subject to a minimum 1 week hire if over 50 mile radius of Shropshire
Call your Local Plant Hire specialists on  01691 770171 or fill in form below