Used Komatsu Sales
Used Komatsu for sale from Ridgway 
At Ridgway, we offer a wide selection of used Komatsu for sale, all from our own hire fleet!
All of our used Komatsu machines are very competitively priced and available in the UK, Europe and Worldwide! We can arrange the shipping and delivery of all our second hand Komatsu machines to any country in the world.
All machines have been owned by us from new, have been serviced regularly by Komatsu and maintained to a high standard between hires by our qualified engineers.
Machines include:
Mini diggers: PC14  ·  PC26  ·  PC55  ·  PC80
13-50 Ton Excavators: PC130  ·  PC138  ·  PC210  ·  PC210  ·  PC228  ·  HB215  ·  PC210LCi  ·  PC290  ·   PC350  ·  PC360  ·   PC450
High Reach: PC450HRD  ·  PC490HRD
Long Reach: PC130SLF  ·  PC138US SLF  ·  PC210SLF  ·  PC240SLF  ·  PC350SLF  ·  PC360SLF
Dozers: D51PX  ·  D61PX  ·  D65PX  ·  D61PXi-23  ·  D61PXi-24  ·  D51PXi-24
Dump Trucks: HM300
Loading Shovels: WA380  ·  WA430
View our current stock of used Komatsu's below:
Contract rental is also available as well as rent to buy – ring 0800 515155 for more details
To arrange a viewing or for more information, fill in form below or call Stuart on 01691 770171
If we don't have the used Komatsu you are looking for on our website, please ring us on 0800 515155 or fill in the enquiry form below as we are constantly buying in new machinery for our plant hire fleet to ensure we have the most up-to-date plant hire service available – nationwide!
All Plant Machinery in our Used Plant Sales has been;
Owned by us from new
Serviced regularly by the Manufacturers
Maintained by our Qualified Engineers
All machines are sold with:
Full Service History
3 Month Warranty (UK mainland only)
---
Komatsu Plant Hire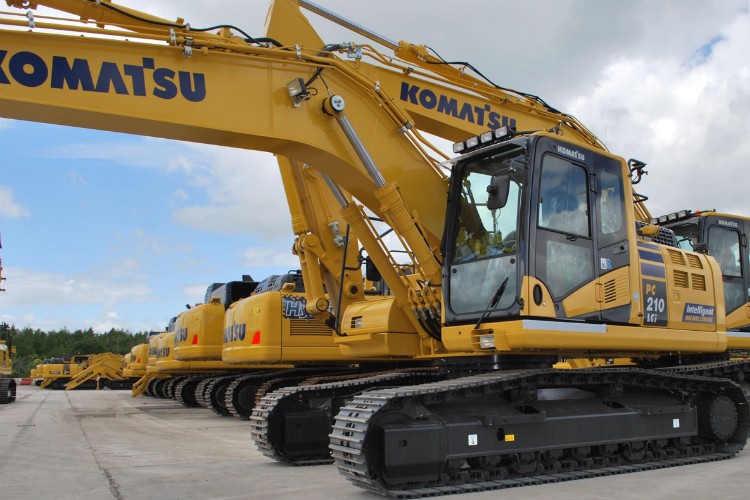 As well as Komatsu for sale, we also offer nationwide hire. Komatsu is a world class, market leader in construction machinery and is well known throughout the industry for strength and reliability. At Ridgway Rentals, we offer a huge range of Komatsu Plant Hire Machinery:
13 Ton Excavators PC130  ·  PC138  ·  PC210
20 Ton Excavators PC210  ·  PC228  ·  HB215  ·  PC210LCi
30 – 50 Ton Excavators PC290  ·   PC350  ·  PC360  ·   PC450
Wheeled Excavators PW98
Dump Trucks HM300
Loading Shovels WA380  ·  WA430
Dozers D51PX  ·  D61PX  ·  D65PX  ·  D61PXi-23  ·  D61PXi-24  ·  D51PXi-24
Mini & Midi Diggers PC14  ·  PC26  ·  PC55  ·  PC80
High Reach PC450HRD  ·  PC490HRD
Long Reach PC130SLF  ·  PC138US SLF  ·  PC210SLF  ·  PC240SLF  ·  PC350SLF  ·  PC360SLF