20 Ton Duck in demo spec on next day delivery
Posted Monday January 22nd 2018
20 Ton Demo Spec Duck
Where else could you get a 20 Ton Demo Spec Duck, with Selector Grab for a job in london on next day delivery?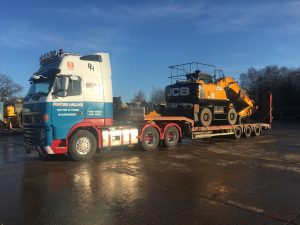 Ridgway Rentals covers the whole of the UK with Self Drive Plant Hire
Pictured here using Pentons of Oswestry as all our Ridgway Trucks were out!
For more information on our Self Drive Plant Hire
Call us on Freephone on 0800 51 51 55 or 01691 770171
RIDGWAY – puts you in the driving seat!