Bully's Back for Plant Hire in Oxford!
Posted Thursday October 13th 2016
There's no stopping our Bully!
Plant Hire in Oxford – delivered by Bully, our Bullnose Truck!
While we wait for our new 100ton Renault truck, our old faithful, Bully has been drafted back into action and has also been doing its bit for tight site delivering plant hire in Oxford.
---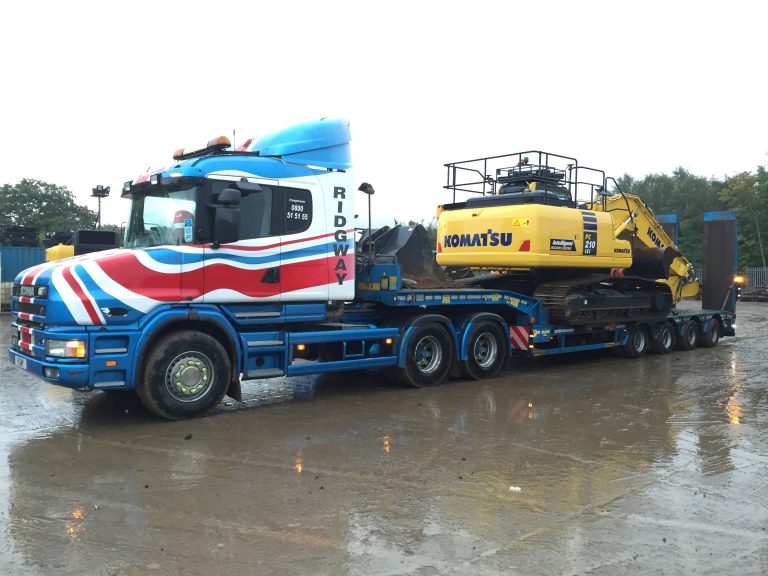 Here he is again! This time off to Scotland!
Our NEW Komatsu PC-210-LCi GPS Control Excavator being delivered up to a site in Dumfries by Bully!
This machine uses GPS technology to ensure 100% accuracy with Automatic real time digging control.
Komatsu intelligent Machine Control is based on Komatsu's unique sensor development, stroke sensing hydraulic cylinders and IMU sensor.
You will no longer worry about over digging. When your bucket hits the target surface, the control function automatically limits it and maintains grade with realtime bucket edge positioning.
If you'd like to know more about this amazing machine, you can find all the details in our Excavator Hire section – click here
Did you miss seeing Bully on the roads?
Perhaps Bully has delivered plant hire to your site? You may have a picture of Bully?
If so, send it to and tell us where plus any other details you want us to know – if we use the picture – we'll send you some goodies!