Tree Shear Attachment Fitted
Posted Wednesday October 16th 2019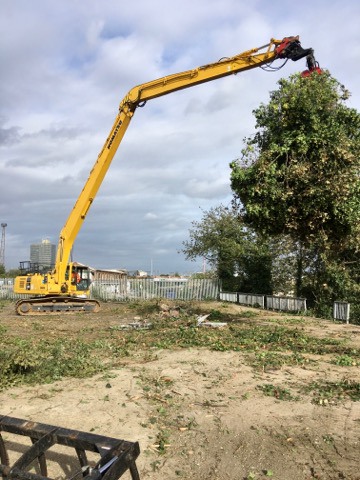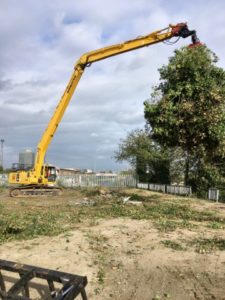 This nifty attachment was fitted to one of our long reach excavators for a customer this week – a PC360SLF with a 22m reach.
Tree Shear Attachment with Long Reach Excavator
Tree Shear can be fitted on the majority of our excavators, but the combination of a long reach excavator with the grapple saw has huge benefits; you can reach higher, reach over water plus remove branches at a safer distance.
The grapple saw is operated by a third control fitted in the cab. It fully rotates & spins so can cut at any angle, even horizontal branches. It combines the features of a vice-like grapple that locks onto the branch with a chainsaw that cuts through it within seconds then lowers it to the ground in a safe & controlled manner.
---
Safety First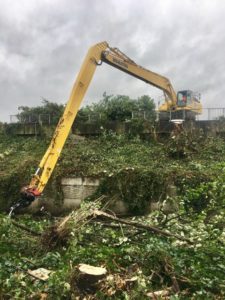 Tree work can be very dangerous, using a grapple saw attachment gives you complete control eliminating most of the dangers and keeps workers on the ground at a safer distance. The Komatsu PC360SLF (Super Long Front) excavator has a ROPS & FOPS cab plus a massive 22 metre reach. It has all the CE certification and lifting charts that are necessary for environment agency work.
CLICK HERE FOR MORE INFORMATION ON OUR LONG REACH HIRE
Excavator Attachment Hire
Our excavator attachment hire includes a wide range of attachments that can be supplied together with our machine hire or separately to fit to your own machines! 
The range includes several specialist attachments designed for the forestry industry including tree shears, cone splitters etc. These attachments can be easily attached to a range of plant machinery of all makes, models and sizes. CLICK FOR FULL RANGE