New Hitachi ZX 225 USLC‑6 Zero Tail Swing Excavators
Posted Wednesday September 6th 2017
New Hitachi ZX 225 USLC ‑6 Zero Tail Swing Excavators added to hire fleet
Yes, you did read correctly!
We've added the new Hitachi ZX 225 USLC ‑6 Zero Tail Swing to our Excavator Hire Fleet!
With a reputation for high specification plant machinery and more well known for supplying Komatsu & JCB Plant Machinery, the addition of the Hitachi ZX 225 USLC‑6 Zero Tail Swing to our Plant Hire Fleet may surprise a few!
Why choose the Hitachi ZX 225 USLC‑6 Zero Tail Swing
The new Hitachi ZX 225 USLC‑6 Zero Tail Swing incorporates new technology developed specifically for the Zaxis-6 medium excavator range which impressed us a lot!
These new models have an impressive 200 redesigned features and enhanced components that offer exceptional performance and reliability and we are excited to offer our customers this additional choice to our fleet.
The Hitachi ZX 225 USLC‑6 is a very versatile excavator suitable in many different industries including road construction, demolition, forestry to name a few, thanks to its short-tail swing and variety of attachment options.
They deliver high levels of productivity with amazing fuel efficiency that complies with EU Stage IV emission regulations. They are equipped with a special Hitachi hydraulic system that reduces total hydraulic loss and helps to reduce fuel consumption by up to 12%.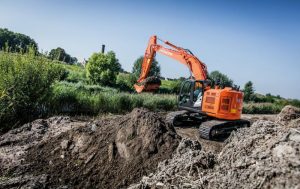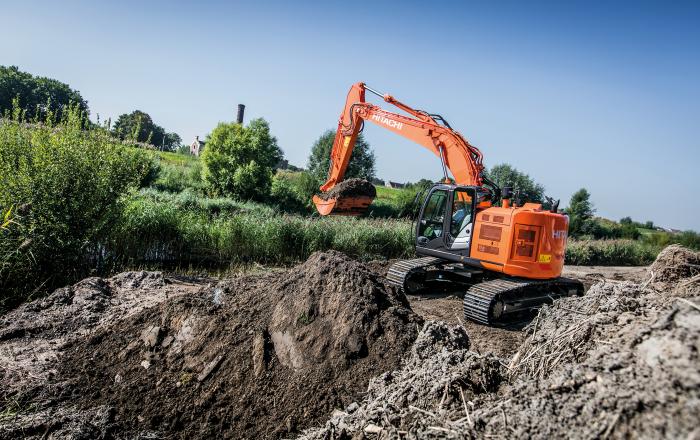 The ZX 225 USLC‑6 has a two-piece boom combined with a tilt rotator that allows the operator to work closely in the area immediately in front of the machine with no compromise on performance.
They are fitted with a high-spec rollover protective structure compliant (ROPS) and centre pillar reinforced structure (CRES V) cab, which is designed to protect the operator from the many potential job site risks. Plus, like the majority of our excavator hire fleet, they have also been fitted with Boxing Ring, Green Beacons plus Hammer Shear and Rotate Circuits. 
Quick Specs
| | |
| --- | --- |
| Weight | 24700 kg |
| Length | 9110 mm |
| Width | 3090 mm |
| Height | 3020 mm |
| Max Digging Depth | 6620 mm |
| Max Digging Reach | 10110 mm |
| Max Cutting Height | 11230 mm |
| Tail Overhang | 135 mm |
For more information on hiring the Hitachi ZX 225 USLC‑6 Excavator
Call us on 01691 770171