Hydradig on Floatation Tyres
Posted Thursday January 21st 2021
Are you looking for a Hydradig on floatation tyres?
We have JCB 110W Hydradigs available on flotation tyres AND also fitted with slew & height limiters too!
Hydradig on floatation tyres for boggy sites!
If you are working in boggy ground, this rubber duck will almost float on water just like a duck!
CALL US ON 0800 515155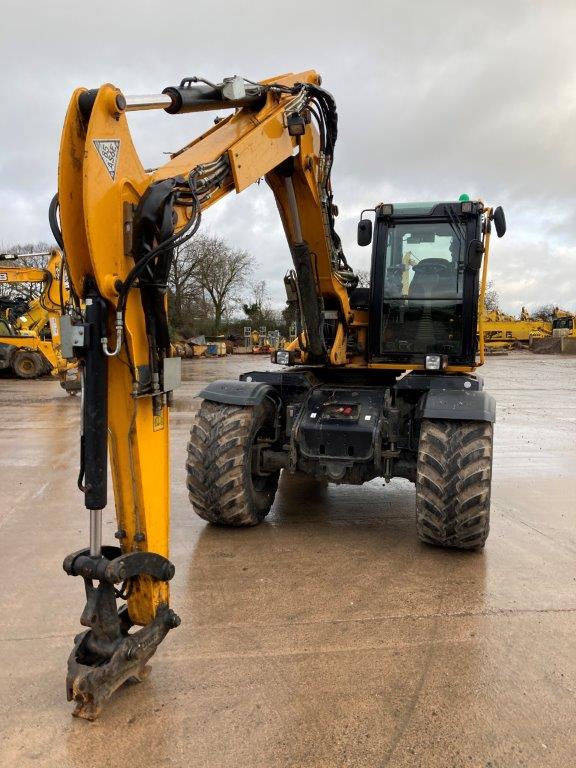 Ridgway JCB 110W Hydradig Hire offers more!
Wheeled excavators, or ducks as they are affectionately known, are popular machines from our plant hire fleet, they are versatile machines for use in so many different industries.
Like all wheeled excavators, our Hydradigs have stability arms and dozer attachment to provide stability. When used with the many attachments available, wheeled excavators are capable of the same kind of tasks as tracked excavators.
Wheeled excavators can provide the same level of lifting and digging power with the added benefit of being safe to operate on finished areas without worrying about damage PLUS driving themselves between sites!
We have a huge host of different attachments, including grabs, shears, breakers as well as forestry and demolition attachments that can be hired alongside our Hydradigs.
---
Height & Slew Limiters Fitted Too!
Our JCB 110W Hydradigs are also fitted with the Prolec slew and height limiters.
The height limiter helps prevent collisions with overhead hazards such as bridges, signs and power lines, protecting operators and critical infrastructure from damage.
The slew limiter monitors the position of an excavator's boom and dipper as they move from side-to-side, warning operators when they approach pre-set safety limits and restricting rotational movement of machinery.
Check out our JCB 110W Hydradig on floatation tyres!