OFFICE BASED SALES
Posted Wednesday May 4th 2022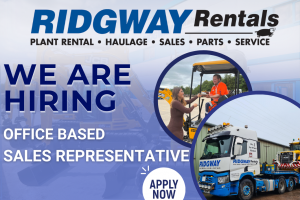 We are looking for an office based sales representative to maximize the sales of the Ridgway Rentals' business.
 You will be responsible for acquiring new clients, improving the rental department, and working with the existing portfolio of accounts.
The role will require you to actively develop profitable relationships with new and existing customers by telephone and email. 
Experience preferred but not essential but will require self motivation, organisation skills and above all good customer communication.
Sectors include: construction, demolition, waste management, recycling, civil engineering, quarries, property developers
Permanent position
Full Time – hours of work to be agreed
Good rate of pay
WHAT WE ARE LOOKING FOR
Computer literate
Good telephone manner
The ability to work as part of a team
Be reliable, self-motivated and willing to work hard
We offer a competitive salary in return for hard work and results
For more information:
Call us on 01691 770171 or send your CV to  or send written applications to:
HR Dept.
Ridgway Rentals Ltd
Earthmover House,
Ridgway Business Park
St Martins,
Oswestry,
Shropshire
SY11 3PZ
About Ridgway Rentals
Ridgway Rentals is a family-owned and run company based in St. Martins near Oswestry and have been supplying Nationwide Plant Hire for over 50 years. We have some excellent employment opportunities at Ridgway Rentals! We take great pride in the excellent service we provide to our customers and expect our staff to reflect these qualities at all times. 
Our Plant Hire Fleet includes 1.5 ton Mini Diggers up to 50 Ton Tracked Excavators, Wheeled Excavators, Loading Shovels, Telehandlers, Backhoes, Dumpers, Rollers, Dump Trucks, Dozers which are all delivered nationwide along with the many different attachments as required.
For more information on employment opportunities at Ridgway Rentals, or more information on what Ridgway Rentals do please look over our website.