Why hire a Telehandler?
Posted Friday May 5th 2017
Why hire a Telehandler? 
If you're not sure why you should hire a telehandler – then read on . . . 
A Telehandler is a very versatile lifting machine incorporating a telescopic boom fitted with a lifting attachment.
A telehandler is also known as a Telescopic Handler, Teleporter, Construction Loadall or Boom Lift
The increased versatility of a single telescopic or articulating boom can extend forward and upwards from the vehicle. On the end of the boom the operator can fit one of several attachments.
Telehandlers have always been widely used in the industrial and agriculture industries and are now becoming more and more popular in the construction industry due to their immense versatility.
The most popular attachments for a telehandler are:
Fork tines
Earth moving bucket
Brush
Lifting jib supplied with swivel hook
Telehandlers are usually mounted on a four-wheel drive chassis and equipped with a telescopic boom that can provide impressive lift heights.
Telehandler for Industrial Use 
The telehandler is often used to move loads to and from places that would be unreachable for a conventional forklift, the telehandler can easily load pallets from inside a trailer onto a rooftop and other high places. They often replace the need for forklifts altogether plus eliminate any need to hire a crane.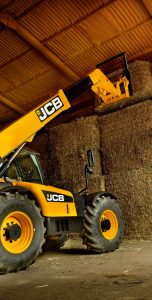 Telehandler for Agriculture Use
The most popular attachments around the farm are a bucket or bucket grab plus forks. The telehandler can be used to move loads to and from places unreachable by a wheeled loader or backhoe loader. For example, telehandlers can reach directly into high-sided trailers or hoppers. The wheeled or backhoe loaders would require a loading ramp or conveyor. The forks are used for moving bales and other farm supplies plus the brush attachment is also utilised well around the farm.
Telehandler for Construction Use
The Telehandler is becoming more commonly used on building & construction sites in place of forklift trucks. The capabilities of a telehandler far outweigh those of the conventional forklift and usually result in keeping machinery on site to a minimum as the tasks it can fulfil are vast. The telehandler is excellent for loading, unloading, moving site equipment and even clearing up sites at the completion. Once hired, you will wonder how you ever managed without one!
Why hire a Telehandler from Ridgway?
At Ridgway, we carry out regular maintenance with full checks in between hires. The contract servicing is completed by JCB trained service engineers at the scheduled times and all our telehandlers are bought direct from JCB from new! Like any other piece of construction equipment, a telehandler's life expectancy is dependent on maintenance and care – At Ridgway we care about our maintenance!
JCB – The perfect choice
There are many manufacturers of telehandlers, at Ridgway Rentals, we chose JCB for a reason – we think they far out perform their rivals.
Part of the reason that the JCB telehandler has stayed ahead of the competition is because of the continued innovation. JCB Telehandlers feature the world-renowned EcoMAX engine and can use up to 14.3% less fuel, they boast excellent manoeuvrability and fast travel times across site, courtesy of a compact wheelbase and large steering lock angles.  With 4WD as standard, you get plenty of traction and performance even in soft, muddy areas. 2WD can be selected to minimise tyre wear and fuel use. 
The JCB 535-140 and 540-140 are available to hire from Ridgway Rentals anywhere in the UK on a short term hire or on a long-term contract hire basis and are available with Forks, Bucket, Brush and Extension JIB.
Our smaller plant machinery including 1.5 ton Mini Diggers up to 8 ton Midi Excavators, Dumpers, Rollers, etc. are all available to hire with free delivery*
Click here for Telehandler Hire Page
For more information on our Nationwide Telehandler Hire ring us on FREEPHONE 0800 51 51 55 or email
Want to buy a used telehandler? Click here for our Telehandler Sales page
*Free delivery is available for small plant up to a 50-mile radius of our Head Office in St. Martins