New JCB Hi-Viz 7 ton Cabbed Dumpers
Posted Tuesday June 12th 2018
Introducing the New JCB Hi-Viz 7 ton Cabbed Dumper Hire.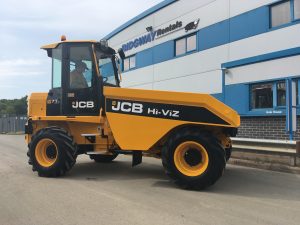 Our 7 ton Cabbed Dumper Hire is the new 7 Ton Hi-Viz from JCB which has considerably increased visibility to standard dumpers plus a cab to protect the operator.
These new cabbed dumpers are reliable and easy to operate machines that take site safety to a new level. They have been designed to offer unrivalled visibility and be compliant with all current and future legislation and standards, including ISO 5006:2017 and EN474
JCB Hi-Viz Dumpers addresses key industry safety concerns to offer maximum Safety
The new design of the JCB Hi-Viz Dumpers address the key safety concerns experienced on construction sites today
VISIBILITY
STABILITY
OPERATOR PROTECTION
---
Innovative Design
By using a low-slung chassis design and revised skip, the operator benefits from huge improvements in front visibility. The operator is able to see a 1.4m object at a distance of 1.0m from the machine when laden, and 0.8m height at a distance of 1.0m when unladen, far exceeding legislative requirements. Crucially this is direct line of vision, there is no requirement for additional visibility aids such as mirrors, cameras or object detection systems.
Site Safety is Key
The risk of a machine overturn is also significantly reduced due to the vast improvement in stability. By increasing the wheelbase, widening the wheel track and lowering the skip height, stability is improved in all directions without compromising its manoeuvrability. The steering lock has been extended to 35° to enable the Hi-Viz model to maintain the turning circle.
JCB SiteSafe cab
New levels of operator protection are assured through the fitment of the JCB SiteSafe cab as standard. This ROPS/FOPS Level II cab features a reinforced frame and impact protective front screen, designed and tested to withstand a front dump impact and side slewing impact from a 13-tonne excavator. A retractable Hi-Viz orange lap belt keeps the operator safe and comfortable, with a clever sequenced drive-inhibit system ensuring the lap belt is worn. The operator must be sat in the seat with the lap belt buckled in order to engage drive. On first machine movement an audible alarm alerts any person in the vicinity of the dumper's imminent movement.
CLICK HERE FOR MORE INFORMATION
Call us on 0800 51 51 55 or fill in form below
Error: Contact form not found.