Plant Hire, Sales Manager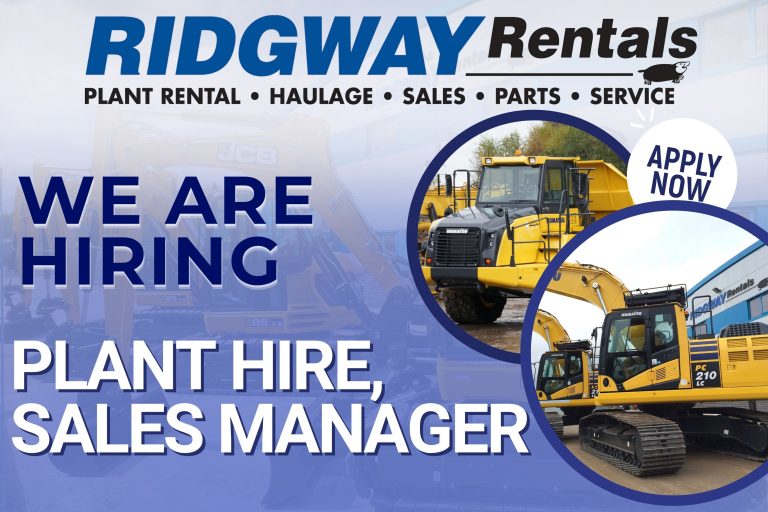 WE ARE LOOKING FOR A PLANT HIRE, SALES MANAGER 
Ridgway Rentals, nationwide supplier of construction equipment are looking for a Plant Hire Sales Manager to maximize rental sales of Ridgway Rentals' business. 
The sales manager will be responsible visiting new and existing customers to secure and promote the business of Ridgway Rentals.
The role will require self motivation, organisation skills and above all good customer communication. Experience and industry knowledge is required.
There is scope for the successful candidate to grow within the company. This is a very exciting opportunity to work closely with company directors whilst building a new sales department.
Sectors include: construction, demolition, waste management, recycling, civil engineering, quarries, property developers
Permanent position
Full time position 
Good rate of pay
Company vehicle 
WHAT WE ARE LOOKING FOR
Computer literate
Good telephone manner
The ability to work as part of a team
Be reliable, self-motivated and willing to work hard
Full UK drivers license  
A MINIMUM OF THREE YEARS EXPERIENCE IN THE PLANT HIRE INDUSTRY IS REQUIRED. 
Starting salary from £50,000 per year
For more information:
Call us on 01691 770171 or send your CV in confidence to
Agencies need not apply
About Ridgway Rentals
Ridgway Rentals is a family-owned and run company based in St. Martins near Oswestry and have been supplying Nationwide Plant Hire for over 50 years. We have some excellent employment opportunities at Ridgway Rentals! We take great pride in the excellent service we provide to our customers and expect our staff to reflect these qualities at all times. 
Our Plant Hire Fleet includes 1.5 ton Mini Diggers up to 50 Ton Tracked Excavators, Wheeled Excavators, Loading Shovels, Telehandlers, Backhoes, Dumpers, Rollers, Dump Trucks, Dozers which are all delivered nationwide along with the many different attachments as required.
For more information on employment opportunities at Ridgway Rentals, or more information on what Ridgway Rentals do please look over our website.