All good things come to an end, Scania T cab retirement
Posted Saturday May 21st 2016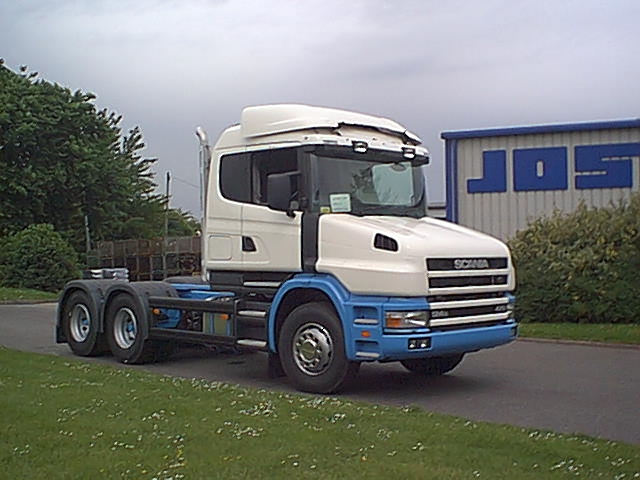 All good things come to an end, Scania T cab retirement. After one million miles and 15 years delivering heavy plant machinery around England, Wales and Scotland it's time for bully to be put out to pasture and take retirement. Our T cab Scania was purchased from West Pennine trucks Oswestry as a plain white lorry. Having decided we wanted something to stand out the union jack colour scheme was chosen. I think it was a good choice as she certainly turns heads, even now every day someone takes a picture of her.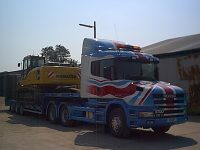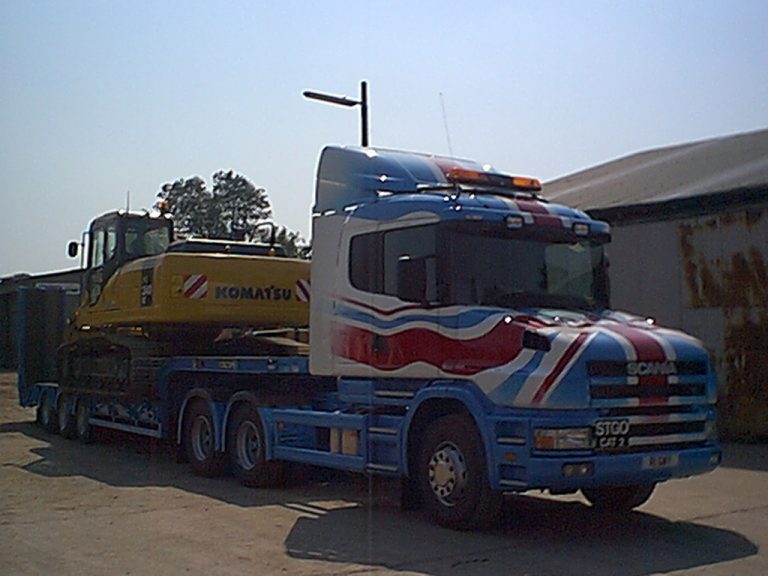 Having got the truck ready there was one important piece of the jigsaw missing, the driver! The timing was perfect Brian had just joined the company to work part time, couple of days per week, like that was going to happen! Brian soon agreed to drive the new lorry and settled in well, enjoying all the attention his new lorry was getting. As time went on machines got heavier and the three axle trailer was replaced for a five axle extending bed faymonville trailer, now Bully could do some work and has spent many years pulling forty five ton machines up and down the country, often followed by her faithful escort vehicle and driver Nelly.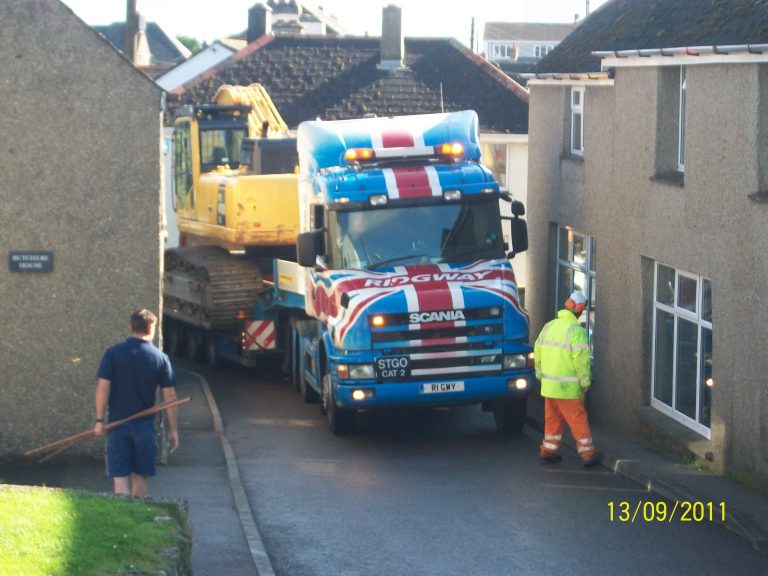 Brian and Bully have had some adventures over the years, there has been the day job of delivering large excavators to places that weren't designed to deliver large excavators too and the PR job, this has included articles in Commercial Motor, Classic Trucks, Oswestry Advertiser, Shropshire Star & Earthmover magazine, there have been radio interviews on Radio Shropshire (3 to date, one involved taking presenter Adam Green on a delivery to Telford), T V appearance on Midlands today and probably the proudest moment, lead vehicle in the queens diamond parade @ RAF Cosford. Corgi and Oxford Die cast have both produced scale models for general sale, there have been two paintings and even a cake.
Time and millage have taken their toll on man and machine, Bully has been re-sprayed by Perrys Of Gobowen and has had every part of the drive train replaced at some time or another. We often joke the only original part of the truck is the driver, with that in mind when Brian decided he really did want to work part time we took the difficult decision to retire Bully. A bit like Batman & Robin, Smokey & the Bandit even dumb & dumber, you can't have one without the other, with no Brian there can be no bully
We've had allot of fun with this truck over the years, Brian & Bully's last week travelling the UK's roads will be next week. If you see them out and about and it's safe to do so give an extra special wave as you won't see them again after Friday the 27th of May.