Plant Hire Delivery – Wherever You Are!
Posted Monday October 3rd 2016
We have always prided ourselves on our Plant Hire Delivery – Wherever you are!
Here's just a couple of examples of the lengths our drivers will go to just to make sure your plant hire delivery is successful and delivered as promised!
A Narrow Lane You Say?
A customer was worried about how we would go about our Plant Hire Delivery when he enquired about Mini Digger & Dumper Hire!
Access to his site was down a very narrow lane and he was worried about getting plant machinery down safely!
Not a problem to us at Ridgway Rentals! Our 80 ton plant hire delivery trucks may be a little on the large size for this particular challenge, but where there's a will there's a way!
Mission accomplished with one of our mitsubishi trucks and trailer!
A Komatsu PC26MR 3 Ton Mini Excavator along with a Thwaites 3 Ton Dumper were successfully delivered to site in St Martins in Shropshire.
If you are worried about delivery access for small or large plant hire – give us a call on 01691 770171 – we will find a way!
---
Duck – That was close!!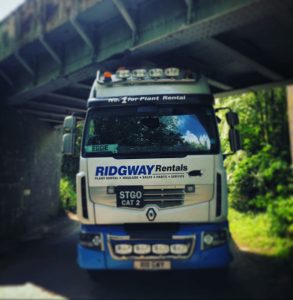 This is one for the album! Sadly no longer with us, our dependable old 80 ton Renault Truck being eased under yet another low bridge!
This dependable old friend of a truck has now had to be sold – but the good news is, it's to make way for a new 100 ton Truck – watch this space!!
Don't try this at home though!
Our drivers are highly trained and are equipped with measuring apparatus to ensure we know the vehicle height before we set out on any journey.
Have you got any pictures of a Ridgway Truck travelling around the UK?
If you do, send them to and tell us where plus any other details you want us to know – if we use the picture – we'll send you some goodies!