Ridgway sponsor Air Ambulance
Posted Tuesday September 10th 2019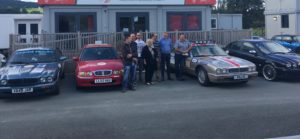 At the end of September, 10 old bangers will set off on a 4 day journey raising money for Air Ambulance
The Penybont Grand Tour teams visited Wales Air Ambulance at the weekend, unfortunately they couldn't get a pic with the helicopter as it was busy out saving lives!
Penybont Grand Tour
Their aim? To make it to Gibraltar! But the big question is, how many will make it?
YES, THEY MADE IT! CLICK HERE FOR THE FULL STORY
---
Ridgway sponsor Air Ambulance
Ridgway are very proud to be sponsor the Penybont Grand Tour! They are raising vital funds for Air Ambulance, whilst having a bit of fun, Clarkson & Hammond style!
Their journey will start at The Penybont Inn in Wales and take them through England, France and onto Spain towards their final destination (hopefully!) – Gibraltar!
1,700 miles in a £500 British Car
The cars must be a British make and cost £500 or less, each car will have a team of two – to share the driving plus be able to jump in another car should theirs fail!
Why are they doing this? To raise money for Air Ambulance whilst having a bit of fun!
All monies will go directly to Air Ambulance – drivers are funding their own costs